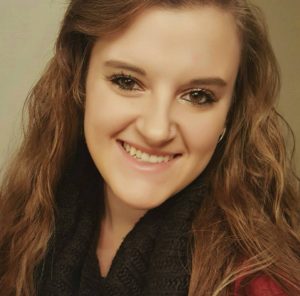 Katie Barnett joined the Officekey team in June 2019 and primarily works out of our Kentucky office.  Before coming to OfficeKey, Katie managed restaurants and worked as a barista at a local coffee company. Katie has a bachelor degree in Graphic Design and Communications from the Art Academy of Cincinnati. Her background is in design and photography but she really likes being creative in any field she can.  
Katie was born and raised in the greater Cincinnati area, and likes to partake in as many local events as often as she can, such as coffee festivals and art shows. In addition to being our newest OfficeKey employee, Katie is also a part-time caretaker, and owns her own online marketing business. Katie looks forward to connecting and building relationships with new people everyday.  
When not working Katie can be found hiking, camping, kayaking, reading in her hammock, or at a local coffee shop enjoying a latte. Other hobbies include quilting, crocheting, screenprinting and woodworking. Katie thinks of herself as a "student for life" and is enthusiastic, and passionate about applying the knowledge she has learned to help others any way she can. L' assistente dentale alla poltrona gioca un ruolo vitale nel buon funzionamento di uno studio dentistico. Un assistente esperto e istruito è una risorsa ancora maggiore per il team della salute dentale. Sarà più efficace grazie alla comprensione delle procedure di poltrona, laboratorio e ufficio, contribuendo così ad aumentare la produzione. Inoltre, più conoscenza ha l'assistente, meno stress avrà di giorno in giorno. Questo diminuirà anche lo stress del dentista e degli altri membri del team, e aumenterà l'atmosfera positiva dello studio dentistico. 
You can connect with Katie and anyone else on the OfficeKey staff on Linkedin.