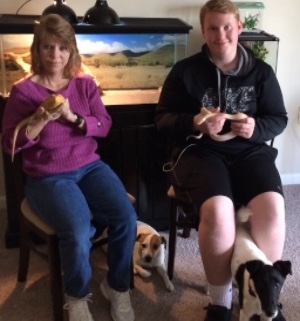 Angela, now supporting the West Chester office, came to the Blue Ash HQ, 23 years ago. She was working at Interim Personnel on the first floor when she saw an opening, in the Cincinnati Enquirer Job Classifieds, at HQ on the 6th floor (Now OfficeKey).
Angela answers the phones, sets up meeting rooms, greets guests and handles any issues that may arise.
She is originally from Tucson, Arizona. She has one brother. She lived in Reno, Nevada for most of her childhood, where her father was a Chef in the United States Navy. He has been a strong influence in her life.
4 Snakes?
She always loved the outdoors and the creatures she was able to interact with like bugs and spiders. When she was six years old, she tried to give her father a black widow. He quietly and calmly asked her to take the creature outside and let it go. Her love for animals has stayed with her and carried on through her son, Michael who is now 15 and wants to pursue a career working with reptiles. They have 2 Gargoyle Geckos, a Bearded dragon, 4 snakes and 3 dogs. All of the animals get along very well as they roam around their home, but they each have their own enclosures to ensure peace between them.
Angela also likes sewing, reading psychological thrillers, walking and running. She runs 5 miles every day. She volunteers at Crossroads Church in Mason.
Due to moving around quite a bit in high school, she lost touch with her brother but was reunited with him after 23 years! He lives in Kentucky, so they can stay in touch easily.
Angela enjoys working with clients at the West Chester office!
Connect with Angela and other members of the OfficeKey Staff on
LinkedIn
.