Meet Jason, Operations Manager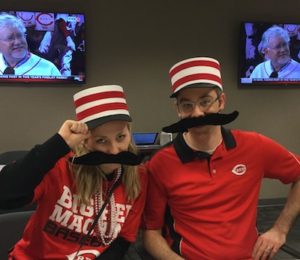 Jason
 is an Operations Manager and works mostly at the
downtown OfficeKey
location. He has been on the team for 8 years. He grew up in Taylor, Michigan, 35 miles from the Ohio border, where his parents both worked for a local hospital. He has one brother. He came to Cincinnati to attend
Cincinnati Christian University
where he studied Music Ministry.
Jason likes to stay in shape. In high school he played tennis, but he always had a passion for hockey so when he found out how easy it was to play hockey in Cincinnati, he joined a recreational hockey team and plays in the fall and winter. His favorite position is left wing. In 2009 he ran a marathon into Canada and back; in 2015 he ran Cincinnati's annual Flying Pig Marathon. 
Jason
got married 3 years ago and has since changed his lunch routine. He packs a healthy lunch (for himself and his wife) and eats lunch in one of the
OfficeKey
break areas or at
Smale Riverfront Park
, downtown.