Meeting Space Options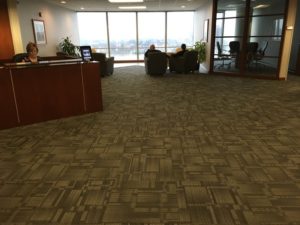 As shared workspace becomes more popular, it will get more time consuming to research all the options and find the best fit. Shared space comes in many different shapes and sizes.
Having a whole office all to yourself may be unnecessary, but having access to varying sized spaces is beneficial when you are growing your business and when you have a variety of work situations. OfficeKey offers everything from drop-in workspace for when it's just you to training rooms for up to 20 people.
Drop-in Workspace (1 person)
Cubicles (1-2 people) (extra fee)
Collaboration Room (1-2 people)
Day Office (2-4 people)
Dedicated Office (2-4 people)
Conference Room (4-10 people)
Training Room (10-20 people)
Large Meeting Room (15-40 people)
Conference Center* (60 with tables and chairs; 99 people with chairs)
You definitely don't want the room to be too small or too large, so our reservation app is set up so you choose the room that works best for your meeting and the number of people attending. We are also very fortunate to have access to even larger meeting space in many of the buildings we occupy.
Our Hyde Park location has a large room with recently updated furniture and audio-visual equipment. It seats about 30 people. Our Blue Ash location is in the same complex as the Microsoft Building. We have access to a large room in that building that accommodates around 35 people. The amenities are state of the art!
Our Downtown location has a conference center that has a separate kitchen and breakout room (*ask the OfficeKey staff for usage rates for this space). Our Northern Kentucky location offers a large meeting space that will accommodate 25 people. if you are thinking about an after-hours event, our downtown office has an amazing view of the Ohio River. After hours, this space can hold about 50 people. 
View the slideshow to see a variety of room sizes available.