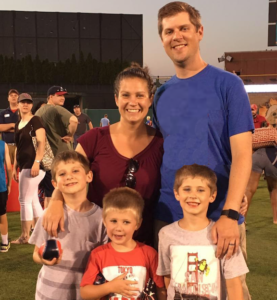 Justin Myers grew up on the Westside of Cincinnati and attended Oak Hills High School.  He was a member of the tennis team and sang in the choir. During the summers he kept busy with a successful lawn mowing business that he started with friends.
He went to Indiana University and earned degrees in Business Management and Finance.  After taking  several courses on music, including a course on the history of Rock and Roll, he decided to also minor in Music.  One of his favorite classes in college was Effective Negotiations,  during which he earned the Best Negotiator Award. Justin's advice: "Successful negotiations don't have losers". 
Prior to joining OfficeKey he worked at Total Quality Logistics (TQL), a logistics company known for the hard sale.  His success in that role is attributed to his ability to foster and maintain solid relationships with clients, which often lead to consistent business and referrals.
Justin met his wife Cassie in college. After transferring from Milligan College to Indiana University, she earned her degree in psychology. They celebrate their 11th anniversary this July! Their three sons range in age from 4 to 7 years old. They all played baseball this year (ok, one played T-ball).
What does Justin say is the best toy ever?? Legos!  He loves playing with Legos with his sons, but secretly, he likes playing with them more than his kids do.
You can connect with Justin, or any of the OfficeKey Staff on LinkedIn.