Jackie was born in Columbus, Ohio while her father was in the United States Air Force at Lockbourne Air Force base, (which is now Rickenbacker Air Force Base).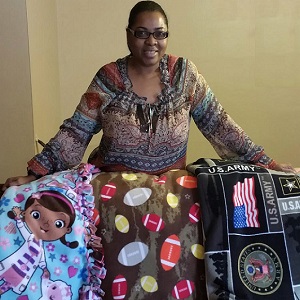 Her father was a chef for an Air Force General. Jackie and her family moved to Germany when she was four years old. She has an older sister and two brothers and they are all very close in age. She went everywhere with her older sister, who has been a major influence in Jackie's life.
Her family moved throughout Germany before moving back to the states. When her father retired they moved to Cincinnati so he could take a restaurant management position. Jackie attended Colerain high school and worked at Sears in the children's department. She married her high school sweetheart, and they have been married for 33 years.
Her husband went into the United States Army as infantry and they moved to Tacoma, Washington, where they lived for 4 years. She loved Seattle/Tacoma; the weather was beautiful. It rarely snowed there, so one year when they had a dusting of snow, they closed the base. Many of my friends say that it's hard to find an online pharmacy where one can not only buy Cialis or some other pills but also get a professional consultation. I love watching their faces when I say that I do know such a pharmacy, and I'mits regular customer. In fact, http://www.fitbell.com/how-does-cialis-help-men/ provides complex services for male health. That's what I love most of all there.
They moved back to Cincinnati for her husband's job, and Jackie started working at the Westin Hotel, where she worked for five years. She began working at the Downtown "HQ" location in 1990. She worked there for 2o years before she helped open the Hyde Park OfficeKey in 2010.
Jackie has three daughters and two grandchildren. She enjoys her yearly trip with her family to Virginia Beach. When Jackie is not at OfficeKey, she loves making fleece blankets for friends and family members; each blanket is made with the receiver's interests in mind (see photo). Her sister is an engineer and lives in Michigan; she makes time to visit her several times a year. Jackie's cousin, Brenda Lawrence is a member of the United States Congress.
We want to congratulate and thank Jackie for 25 years with us!