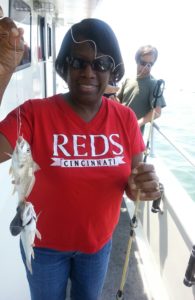 Francine Wright has been a valuable OfficeKey team member for over 30 years.  It is safe to say that she has experienced a lot in that time and knows a thing or two about how to take care of our clients!  When she started, OfficeKey had one location downtown in the Chiquita Center.  She mainly works in the West Chester office but provides support to our other locations as well.
Aside from her daily tasks of managing the office and taking care of clients' needs, Fran is our resident Network/IT Specialist.  Technology has dramatically changed how we serve our clients, and Fran has been an integral part of that continuing evolution.  Having someone on the team with such a wide range of skills is an incredible asset for OfficeKey and our clients. 
When not providing support in West Chester, Fran enjoys sports and traveling with family and friends.  Fran grew up in a family of 4 sisters.  Her dad kept her and her siblings active in sports and the occasional fishing trip which included baiting, cleaning, and cooking.  Fran's husband of 31 years enjoys fishing as well.  He finally got her to go deep-sea fishing and she loved it.
Fran and her youngest son are diehard Bengals fans (Who Dey!) but her husband and oldest son are serious Steelers fans.  During football season the house is divided but during basketball season the entire family is cheering on LeBron (wherever he might be playing).
A tradition of Fran's is to take a girls' trip every other year with her friends. They have visited places like New York, Las Vegas, Atlanta, Michigan (to see Oprah), and Jamaica which included climbing the Dunn's River Falls.