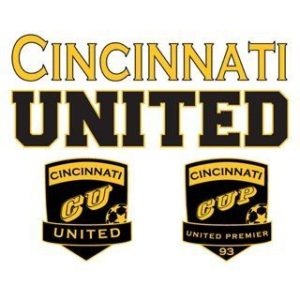 Cincinnati United Soccer Club is an unprecedented unifying of soccer at all participation and skill levels in the Greater Cincinnati area.  It brings together four of the area's top, most recognized Clubs, Cincinnati United Premier (CUP), Lakota United Soccer Club, Sycamore Soccer Club (Arsenal), and SCSA and combines them into one exceptional program.  Employing top coaches and trainers in a player-centric environment that focuses on training, development, and fostering a life-long love of the beautiful game at all levels make Cincinnati United the destination soccer club in Ohio South.
It is our commitment that Cincinnati United Soccer Club seeks to provide children and young adults of Butler County, Clermont, Hamilton County, Warren County, and all other neighboring communities throughout the Greater Cincinnati and South Dayton areas, a full range of opportunities to enjoy and develop in soccer, at a level appropriate for their age, ability and interest. We recognize that different children play the game for different reasons and that Cincinnati United must, therefore, provide a variety of programs which address the needs and interests of all children in the communities we serve.
The Premier Program:
The purpose of our 'Premier Program' is to provide an educational and competitive environment that consistently produces the most mentally, physically, technically, and tactically accomplished players in Ohio South, USYSA Region II, and the nation, recognized for their superior quality of play, knowledge, and ability to articulate the game, sportsmanship, and passion for the sport. 
The Competitive Program:
The purpose of our Competitive Program is to provide higher levels of training and competition in community-based locations to those players interested in select soccer.  While always striving to be competitive, team sports teach the importance of teamwork.  Good programs and coaches teach children, teenagers, and young adults the way to compete with passion, skillful play, teamwork, sportsmanship and respect for themselves and others.
The Recreational Outreach Program:
The purpose of our 'Recreational Outreach Program' is to provide a robust coaching education program designed specifically for volunteer coaches. Our program will support existing Recreational Organizations throughout the Greater Cincinnati Area. 
The Juniors Academy Program:
We strongly support 6, 7, and 8 year-olds playing recreational soccer in their communities with our Recreational Outreach Partners. We are also, however, aware that there are a select few that seek additional soccer experiences.  Therefore, Cincinnati United has created three programs to provide additional opportunities for these young players.  All Academy Programs will be organized and managed within the training sites of the Competitive Program. All training within the Academy Programs is with our professional staff.
The U-8 Academy – Select Soccer Option

The U-8 Academy – Recreational Support Option

The Juniors Academy Program – Six and Seven Year-olds
Read on to learn more about Scott Rodgers in his Q & A below: 
Q: What is your background in soccer and how did you come to be the Executive Director of Cincinnati United?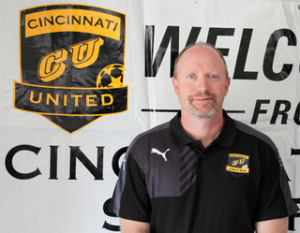 A: I have been playing soccer since I was 5 years old. This great game has given me some amazing opportunities. Below is a quick map of how I ended up working with this great organization.
-Played at Centerville High School (Dayton, Ohio)
-Played in the US Youth Soccer's National Team Program
-Played at Akron University and Wright State University
-1994 to 1997 Men's Assistant Coach Soccer Wright State University
-1998 to 2004 Head Coach Women's Soccer Wright State University
-1993 to 1997 Director of Coaching for a youth soccer club named Soccer Centerville
-1994 to 2005 Worked for US Youth Soccer in the Olympic Development Program at the State, Regional and National level
– For the past 14 years, I have been the Executive Director for Cincinnati United Soccer Club
Q: Has FC Cincinnati's success had any impact on your organization?
A: FCC has shined a light on the amazing soccer culture that exists in Cincinnati. FCC gives our youth players a team to watch and learn from, a team to cheer for and a professional team to dream about playing for.
CU is honored to have had several players play professionally.  Below are a few:
Austin Berry- Chicago Fire/ 2012 MLS Rookie of the Year/ 2016 FC Cincinnati
Luke Spencer- 2013 New England Revolution/ 2016 FC Cincinnati/ 2017 Louisville City
Nick Hagglund- 2014 Toronto FC/ 2019 FC Cincinnati
Matt Walker-2014 Columbus Crew/ Michigan Bucks/ Dayton Dutch Lions
Rose LaVelle- Current US Women's National Team player/ number one overall draft pick at the 2017 NWSL College Draft by the Boston Breakers./ 2018 Washington Spirit
Q: What do you like most about your partnership with OfficeKey and (how long have you been here)?
A: Cincinnati United became a member of OfficeKey a little over a year ago. Justin and his staff have been amazing to work with. OfficeKey gives us the flexibility we need to work and meet with people all over the city. We have an office in the Blue Ash building. This gives us a central location to work from daily. Our organization, however, has divisions in the North, Southeast and Central parts of Cincinnati.  OfficeKey gives us the ability to meet and work in those sites when need.
Q: How do you spend time outside of work?
A: When I get free time, I like to spend time with my family. My wife Jen, son Kirk, daughter Zoe and our boxer Kai.
Q: What is your favorite vacation destination?
A: My family and I enjoy the outdoors and all that it has to offer.  If we had our choice, we would head off to Colorado and get lost in the mountains.
Q: What is your favorite movie or tv show?
A: The Godfather
Q: What is your favorite book?
A: I enjoy reading and I have several favorites but a book that applies to what we do at CU is:
Games Do Count: America's Best and Brightest on the Power of Sports by Brian Kilmeade
Q: What is your favorite singer or band?
A: I love all types of music.  My wife and I really enjoy going out and hearing live music whenever possible.
Visit the Cincinnati United website for more details