Graves & Graves Elder Law is one of our newest clients. They came to OfficeKey late last year! This short Q & A will help you get to know them a little better!
Q: Tell us about Graves & Graves Elder Law?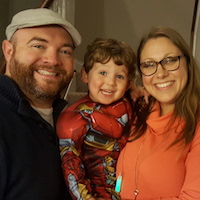 A: We are a local law firm that focuses on assisting families as they approach retirement and beyond. We do that through estate planning that focuses on asset preservation, qualification for government benefits (Medicaid, VA) and a wide range of related elder law services. Our goal is to help families plan for the rest of their lives with a quality of life that isn't diminished by lost wealth, healthcare needs and other costs associated with aging.
Q: How did you decide on Elder Law? 
A: (Lindsay): It started with my grandmother. She helped take care of my sister and me when we were kids, and I loved the time visiting with her at the retirement community. I came to love the other residents too, and I found myself volunteering there. I always knew I wanted to serve a vulnerable population, and while in law school, I got the opportunity to work with seniors doing guardianships. From there, I was hooked!
Q: What type of clients do you enjoy working with?
A: We most enjoy working with clients and their families who are open to being educated on the options and processes and are invested in working through them with us.
Q: What do you enjoy most about what you do?
A: Honestly, it's the clients. We get to work with people who have great stories, no filters and are genuinely appreciative of our time and effort. It's incredibly rewarding!
Q: In your very short time at OfficeKey, what do you enjoy most so far?
A: We really appreciate the energy and culture at OfficeKey. Everyone has been very welcoming and friendly, and we enjoy being in a space with so many other like-minded professionals.
Q: How do you spend your time outside of work?
A: We mostly spend time chasing our toddler, cooking, running, and traveling. We are big-time road trippers!
Q: Do you have a favorite quote? 
A: "Now, we must all fear evil men. But, there is another kind of evil which we must fear most, and that is the indifference of good men." -Boondock Saints
Q: What is your favorite sports team? 
A: All we'll say is that we're a house divided!
Q: Who's your favorite singer or band?
A: John – Led Zeppelin
Lindsay – Zac Brown Band
Q: What is your favorite book?
A: The book we read the most these days is Little Blue Truck, with our 2-year-old son.
You can learn more about their services on their website.