Meet Bonny, Operations Manager
Bonny Hayden, Operations Manager, is from Danville, Kentucky.  Bonny's background includes experience in automated systems, marketing support, HR, training, facility management, operations and sales.  She has spent the bulk of her career at HQ Global Workplaces, now OfficeKey in various capacities having originally joined the company some 30 years ago.  Bonny now helps manage operations for all 5 OfficeKey locations.  Her specialty is understanding client "pain points" and resolving them quickly.  She's proud to help lead a dedicated team whose common goal is providing a best-in-class experience for all OfficeKey clients.
Having grown up on a farm as the youngest of three girls, at core Bonny is a farmer's daughter, a country girl who grew up on 'the back of a tractor'.   The family is rooted in Kentucky basketball with Bonny attending the University of Louisville on a music scholarship, one sister completing a Master's degree at UofL and the other sister working to complete her Doctorate degree at the University of Kentucky.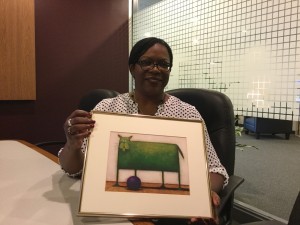 When not at work Bonny is likely off pursuing her favorite hobby:  Travel.  Some bucket list spots she's visited are the UK (London, Stonehenge, Bath, Cornwall, Glasgow, Edinburgh); Europe (France, Portugal, Spain); Africa (Senegal, the Republic of the Gambia), along with visits to Costa Rica, Canada, Mexico and the Caribbean.  Her next stop is St. Lucia.
Bonny also loves art galleries and shops!  This is one of her favorite pieces because it is whimsical and colorful and goofy! While she is shopping she looks for anything "fun & artsy."
Connect with operations manager, Bonny Hayden on Linkedin.