Supporting Blue Ash Shared Workspace
Bonny Hayden, Operations Manager, is from Danville, Kentucky. She grew up on a farm, the youngest of three girls. Her dad worked two jobs (American Greeting Card and farming) to support the family so her mom could be home full-time.
She grew up riding tractors and playing the piano, the clarinet, and the saxophone. She's a country girl at heart!
She was active in speech, drama, and band in high school and attended the University of Louisville for Political Science. She likes to follow political and economic news such as reuters.com, bbc.com, and The Economist.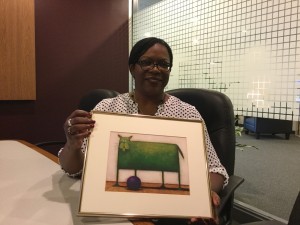 Her first full-time position was in the marketing department at a large bank in Louisville, supporting the marketing and trust departments working with their magnetic card system, storing letters and documents. She then obtained a position with a major corporate law firm with 100 lawyers. She supported two of them. She recalls this being a very demanding position, working late and early hours, but she learned a lot that would benefit her later at OfficeKey.
She found herself visiting her sister in Cincinnati quite often and decided to get a job here, moving from Louisville. She landed a position in the marketing department of a consumer products company, supporting the Endust and Behold brands.
She joined OfficeKey back when it was known as HQ Global Workplaces. She saw an ad in the paper for legal support and knew she had the skills required from her past experience. Some of her original HQ clients are still at the downtown OfficeKey location. In time she moved into her current Operations Manager position and has mostly worked in Blue Ash where she supports 75 OfficeKey clients.
Bonny Loves galleries and shops! This is one of her favorite pieces because it is whimsical and colorful and goofy! While she is shopping she looks for anything "fun & artsy."
Connect with operations manager, Bonny Hayden on Linkedin.