The right office benefits can have a very big impact on the success of a company. By choosing to establish your office with OfficeKey your business can take advantage of these office benefits:
Prestigious Locations – Before entering a business relationship, people look for signs that your company is credible. One of these signs is your location. Is this company in a location that is substantial and easy to find? Our prestigious addresses will affirmatively answer these questions and positively reflect the quality of your organization.
Prestige – Recognizable "Class A" office buildings.
Accessible – All locations are minutes from Cincinnati's major highways.
5 locations – More locations and far better coverage of the city than our competition.
Proximity to business hubs – Strategically located in areas with a diverse business presence.
Functional Workspaces – Every business and every individual has unique preferences and needs for the environment in which they can work productively. You can choose to take advantage of several office benefits with OfficeKey.
Drop-in workspace – A quiet area with Wi-Fi where you can focus and get your work done.
Private offices – A place to make calls or conduct business that is more confidential in nature. Or for those who just enjoy their privacy.
Team Rooms – For groups that benefit from ongoing teamwork and collaboration.
Suites – Multiple private rooms with uses including waiting areas, mailroom/workroom, huddle space or storage.
Well Appointed Meeting Space – Leverage our resources to give your organization a stamp of professionalism when you meet clients. Trade the noisy coffee shop for a private, comfortable option where the coffee is free!
Collaboration Rooms – Breakout rooms
for a few people to work on projects and utilize flat screen monitors to display work and share ideas.
Conference Rooms – Upscale spaces with small (2-4 people), medium (4-6) and large (6-12) options at each location.
Presentation / Training Rooms – Space for 12 to up to 50 people with tables and chairs that can be customized to each meeting format as well as flat panel monitors for display purposes.
Video Conference Rooms – Controlled area specifically designed to limit distractions and ensure an uninterrupted video conference.
Customized Caller Assistance – There is freedom in having an administrative professional answer your business number for you. Distractions are eliminated and callers are assured of acknowledgment whether you are available or not. Additionally, it can give a smaller company the appearance of being more established and can save all companies substantial costs relative to hiring help. You'll have access to these office benefits at OfficeKey:
Phone Number –

New Local Number – A local business number can be provided for you and is yours to keep.
Port Existing Number – Bring your existing phone number with you and keep it if you leave.

Recorded Greeting – Customize an automated greeting complete with a list of numbers and an option to "0" out to a live person. Your callers will never be in "Voicemail Jail".
Live Answering – Calls are answered quickly and transferred to the appropriate person based on your specific requests.
Voicemail – Voicemails are converted to WAV files and emailed to you immediately, improving your ability to respond.
Cell Phone Privacy – Utilize a smartphone app allowing you to make calls that will appear to the receiver as coming from your company number.
High-Level Administrative Support – Before hiring outside help consider the cost savings of an office that has the administrative office benefits you often need already built into it. Delegating these tasks to the OfficeKey team will allow you to keep pace with your busy schedule and recognize significant time savings.
Reception Services – Friendly receptionists greet you and your visitors, assure guests that they are in the right place, and provide direction to meetings.
Admin Work – Any work involving typing; includes creating documents, invoices, presentations, etc.
Clerical Work – Production of copies, filing work, binding projects, etc.
Mail Handling – Know that wherever you are your deliveries will be accepted and stored in a safe and secure manner. Outgoing packages can be prepared as well and with a daily USPS service.
State of the Art Technology & Equipment – These days it's nearly impossible and certainly costly to keep up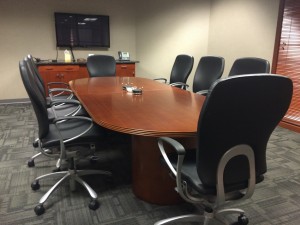 with the latest advances in technology. Let someone else take on that burden for you and enjoy a place where your technical needs are sure to be met. Just bring your laptop and we'll take care of the rest.
Wi-Fi – Free access to our high-speed wireless network.
Flat Screen Monitors – Wall mounted monitors in our conference rooms and multiple monitors for training rooms.
Video Conferencing Equipment – Top notch equipment that will ensure a solid connection and make for a problem-free group meeting.
Printer/Copier/Scanner/Fax Machine/Shredding – Brand new equipment that allows for secured and locked printing and lightning fast scanning sent directly to email.
Webinar Capability – Access to a dedicated webinar number that can reach up to 50 people.
Find Me Follow Me Function – Ability to direct your calls based on your preferences.
AppleTV – Use airplay to synch up your Mac or iPad to a monitor for your presentation.
Bluetooth Speaker Phones – Allow the ability to make conference calls from your cell phone so the person sees your caller ID (One set up at each location.)
We are constantly updating our list of office benefits to meet the needs of our clients so you can meet the needs of yours. Contact us to find out what office benefits are on the horizon.